1/63 Hedley Road Mount Thorley NSW 2330
Custom Harness Design & Manufacture by AWA
AWA can work with you to design your custom wiring solutions, providing technical support and assistance through the entire process.
Harnesses can also be manufactured from your own designs, using quality cable and products, ensuring they meet all necessary industry standards.
We can also supply rolls of braided cable, this can be made to order using any number of wires, size and colour required.
Manufacture & Supply OEM Direct Replacement Harnesses
We can manufacture and supply any OEM harness from a client supplied sample or part number.  OEM harnesses can be made as a direct replacement or can be modified to suit customer requirements.
AWA have a library of OEM harnesses documented from CAT, Hitachi, Liebherr, and Cummins just to name a few. Contact us with your part number to find out how we can help
Design & Manufacture Custom Electronic Components
The team at AWA have the knowledge and experience to design electronic components for specific needs.
Contact us for more information.
Why Choose AWA?
At Advanced Wiring Australia we use only the highest quality cable, connectors and products to ensure our harnesses withstand the harsh environmental conditions they are subject to.
All of our cables are tinned copper, high temperature, UV resistant flexible cables which all meet AUS Standards. The use of tinned copper wiring in all of our harnesses reduces the risk of developing "green death" while the high temperature flame-retardant insulation provides protection against the harsh elements.
Our wiring harnesses are covered using High Performance PVC coated nylon yarn. This High Performance yarn is designed to be used at a High Temperature for extended periods of time making it an ideal addition to our wiring assemblies.
Braided Harness Benefits include:
Abrasion and oil resistance

Minimal wire movement, therefore eliminating vibration

Flexible and wear resistant

Quick and easy installation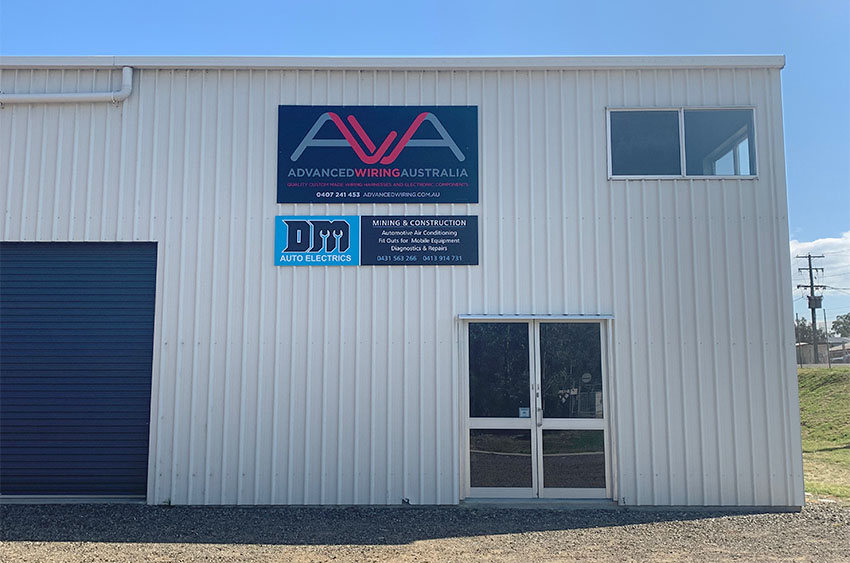 About Advanced Wiring Australia
The AWA team includes Dean Moore, Dan McKenzie, Cameron Ayres and Bec McKenzie.
Dean, Dan and Cameron have been working in the Mining Industry as Auto Electricians for the past 18 years. With their in-depth knowledge and problem solving capabilities we are able to provide assistance with design, advice and full product support.
Bec has been working in the Harness Manufacturing Industry for the past 7 years and has gained a wealth of knowledge. She knows the importance of providing a quality product when it is needed and she is committed to delivering exceptional customer service.
Contact Us
Manufacturers of Custom Designed and OEM Replacement Wiring Solutions for clients in the mining, civil, transport and auto electric industries.
SALES & PRODUCT ENQUIRIES
A: 1/63 Hedley Rd Mount Thorley NSW 2330